Warehouse D is a Dead Rising 2 location found in the Underground. The area includes a Freight Bay, an Underground Loading Bay (vehicle garage), a hallway to Warehouse E, and a vehicle exit to the Silver Strip.
Case 6-2: Last Stand with insane Dwight Boykin takes place here. Case 6-3: Lean on Me, in which Chuck helps Rebecca back to the Safe House begins here.
Three orange 4x4s are found in the Underground Loading Bay.
The name Warehouse D comes from the Prima Official Guide.
The name Freight Bay is from the sign above the entrance to where Boykin is holding Rebecca.
The name Underground Loading Bay comes from the case 6-2 engaged case screen.
Warehouse D is one of at least three locations which only appears after a flag in the programming is activated. Before Case 6-2: Last Stand the room past the closed metal sliding door does not exist.
The other locations with similar attributes are the Secret Lab where Case 7-2: The Only Lead and the zombie harvesting takes place, and the blast wall in the Atlantica Casino, which only appears after Case 3-2: Run for the Money is completed.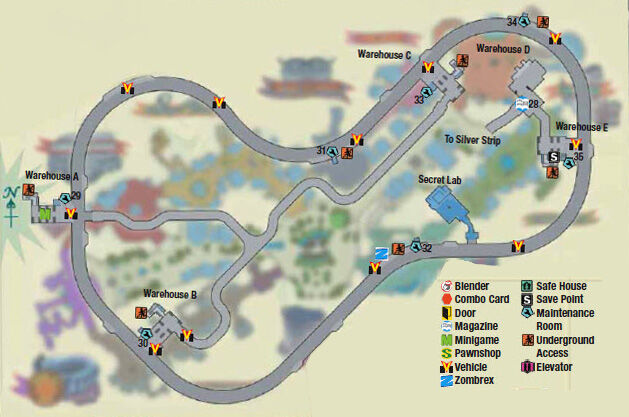 Community content is available under
CC-BY-SA
unless otherwise noted.